Hi!!! Hope you all are having a great week so far!! I am terribly impatient so sitting around just twiddling my thumbs waiting on baby boy is making me crazy!! I am having contractions but nothing real yet!! I am spending my days doing laundry and being lazy! Let me show you what I have been eating:
Breakfast:
My usual these days because I am lazy!
Peanut Butter Cup Protein Shake
and coffee with organic half and half.
Lunch:
2 leftover Dr. Praeger's California Veggie Burgers with organic ketchup and half of an avocado.
Snacks:
A plum, Luna bar (not my usual but I was starving and achy) and some unsalted almonds later on that day.
Dinner:
A Hobo Oven Dinner. I got the idea off of
Pinterest
and it was super easy and I had all of the ingredients. I just mixed 1 lb. lean ground beef with a couple teaspoons Dijon mustard and 1 egg. Made into 4 patties. Added each patty to a square of aluminum foil and topped with chopped red potatoes, sliced onions and some frozen whole green beans. Baked at 400 for 35 minutes. SO easy and tasty!
Bedtime:
I had a small amount of Organic So Delicious Dairy Free Neapolitan Ice Cream and a cup of Organic Third Trimester Tea. YUM!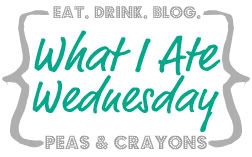 So tell me....
Have you ever had a hobo dinner? What did you put in yours??
What is your go-to easy but healthy breakfast??