TGIF!! Am I right??
What a great week relaxing and getting back in the swing of things after vacation!! I've been trying out a few new products and wanted to share some of my favorite finds from this week!
Let's get started!
Love this stuff! I am super picky about sunscreen. I love that it's tinted so it makes your skin look great while giving you great sun protection. I used this all week at the beach and never got burnt! My skin felt soft and never greasy!
Free of parabens, BPA, phthalates, and artificial dyes.
This one is even safe for my preggo and breastfeeding friends.
Belli Pure Radiance Facial Sunscreen
I've been a huge fan of all things coconut lately! I can't get enough! This spray was perfect after I got in from the beach. I sprayed this on after my shower and my skin felt great, wasn't greasy and I didn't smell like a coconut. Best part is that it is only one ingredient....which is super hard to find for a moisturizer. I would even use this on my kids sensitive skin.
Capriclear Coconut Oil Spray
I love Jack Rogers Sandals and I really needed a cute black pair of sandals that I could wear anywhere. These are great because you can even wear these to the pool! They come in a ton of different colors. I am eyeing the gold and the coral!!
Jack Rogers "Georgica" Flip Flop
I received this tea sampler to try out because I just can't get enough herbal tea lately. I swear it cuts down on my cravings and keeps me from binging on chocolate. I always make a cup of hot tea around 3:00-4:00 in the afternoon when I'm most likely to snack without being hungry! The Wings and Green tea with herbs are my fave and this sampler is a great gift for a tea snob like myself. :)
Buddha Herbal Tea Sampler
Y'all...I broke out the one piece bathing suit this year! My stretch marks and loose skin like to be concealed and I have been eyeing one pieces this year because I feel like they are very "in style." I love Kenneth Coles Cutout One Piece swimsuits. They are on sale at Macys but I actually found one on eBay and it was only $22!!! Score!!! If you're cheap like me...ebay does have really cute brand name bathing suits for cheap!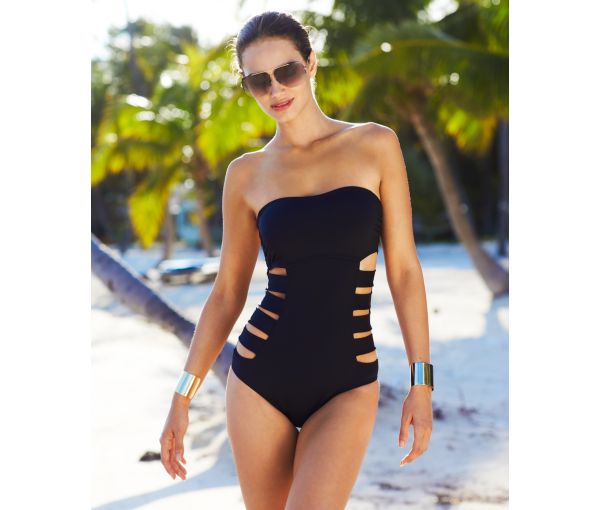 Kenneth Cole Bandeau Cutout One Piece Swimsuit
Cheers to the weekend!! :)
**Some of the products listed above were sent to me for testing purposes. All opinions are 100% mine! :)