Happy Friday!!
This week has been pretty crazy taking care of my sweet little sick baby and let me just say....I don't know if it is the Prednisone or the breathing treatments but he is NOT sleeping well at night! Sad face.. :(. Hopefully he will perk up soon and start feeling better! Mama is tired!!
Now on to some of my favorites for this week: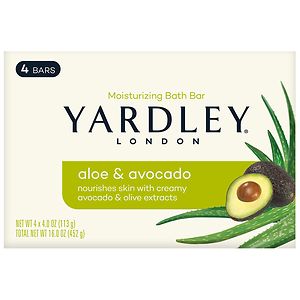 This soap smells SO good! I love that it is a more natural soap and I am a huge fan of all Yardley soaps, This may be my favorite scent! You seriously have to try it! I get this at my regular grocery store!
Brace yourself you guys....these are from Walmart. I don't frequent Walmart very often (I am more of a Target girl) but a friend of mine was raving about the activewear from Walmart. I ordered a few pieces online and thought I would give them a try! Love...love...love these! Super comfy and the quality is great! AND....they are $11. I am not even kidding. They are seriously worth a try. I will share with you some of my other faves from my Walmart order in the next few weeks. This girl loves a bargain!
I may be totally late on this because I know that this has been around for years but I recently used this on my legs for a wedding that I attended and I was super impressed with the results. I don't always take the time to plan out my fake tan a few days in advance for an event so this was great because I put it on right before I left for the wedding. It wasn't orange and gave my legs a nice glow. Definitely worth a try if you are in a pinch and want something quick to give you a nice tanned look! I am on the prowl for a really good self tanner that will have lasting results. Any suggestions?
My new favorite mascara. I love it! I received a sample of this in my
Ipsy
bag and I fell in love instantly. It makes my lashes look great!!
I love plain Greek yogurt with berries and stevia. It is one of my favorite snacks or meals. I decided to give coconut milk yogurt and try and it was so delicious! I love the taste and the creaminess. These have active and live cultures and a TON of fiber. Definitely a great alternative to dairy.
Hope you all have a wonderful Good Friday!! I will be spending the day playing with the kiddos and doing a little yard work!! :)