Hi!! Hope everyone is having a great week!! I have been up since 5 a.m. with my two year old who insisted he get in my bed (inside my pregnancy pillow) and sleep until 7:30. Good for him but as much as I love to cuddle....I could not go back to sleep. Finding a comfortable position is almost impossible at this point!
My eats lately haven't been too exciting....some days I forget to eat and some days I am ravenous! Yesterday I was busy nesting and didn't eat too much. I made up for it at dinner though! We went to my favorite restaurant and I chowed down!
Breakfast: My favorite overnight oats
topped with banana and peanut butter. Yum! If you haven't tried these yet....Try them! They are so good and so filling!
Snack:
2% Plain Greek yogurt, blackberries, pecans, and a drizzle of honey.
Late Lunch:
I almost completely forgot about lunch! I scrambled myself a couple eggs with 1 egg white and added a little baby spinach for some green. I also ate a peach and a few strawberries. Man....this was good. Who says eggs are for breakfast??
Dinner:
I was planning on cooking but we ended up going to my favorite Mexican restaurant and I had 2 shrimp tacos with grilled vegetables and slaw on the side. I also had some chips with fresh guacamole and salsa verde. So good. I forgot to take a picture because I was starving and I am pregnant and those two things combined can be a dangerous thing!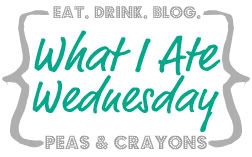 Hope you guys have a fabulous day!!
So tell me.....
What is your favorite way to eat eggs???