Good morning!!
It's funny how I go through food phases. I go a couple weeks eating the same breakfast or same lunch and then I switch it up completely! Now I am on the oatmeal breakfast and tons of fruit phase! I'm sure in a week or so I will switch back to eggs and banana wraps. Strange!
Breakfast: Dark Chocolate Banana Baked Oatmeal with coffee and organic half and half. This oatmeal is ridiculously good. I promise to share the recipe with you guys next week!
Snack: Cantaloupe :)
Lunch: Leftover Mexican rice, black beans, organic shredded cheese and salsa verde.
Snack: Organic Bartlett pear and unsalted almonds.
Another snack: Plain Greek yogurt, Truwhip and fresh strawberries. I'm hooked on this for sure.
Dinner:
Take out from one of my faves...
Zoe's Kitchen
. I got the Power Protein Plate which comes with grilled chicken, caramelized onions and feta slaw. Delicious!!!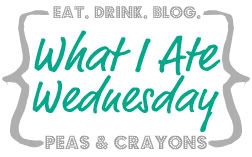 So tell me....
What is a food/meal you are "hooked on" right now???