Happy Wednesday Everyone!! I am in full hibernation mode lately. All I want to eat is oatmeal and soup! HA!! I have also noticed that I am skipping one of my usual snacks. It is not intentional but I just don't get hungry between breakfast and lunch these days.
I am excited about this weekend. I plan on wrapping presents, making Christmas goodies to share with all of you and making gingerbread houses with my kids. These are on the top of my list for things that I LOVE to do.....well maybe minus the wrapping. I am not a huge fan of that!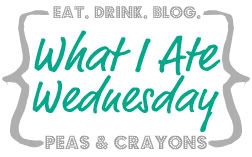 Time for What I Ate Wednesday! I love sharing with you guys my daily eats. I am far from perfect but I hope it gives you some ideas for your day!
Breakfast: My favorite Steel Cut Oatmeal-
I love this stuff. I switched over to
Quinoa Porridge
for a while but now I am back to my beloved oatmeal. I love them both. I just like to switch things up!
Lunch: Burrito Bowl-
Simple and delish! Brown rice with black beans, guacamole, organic cheddar cheese and salsa verde. YUM!
Snack: PB&J toast-
I toasted a piece of
Food for Life Brown Rice bread
and topped it with almond butter and organic concord grape jelly. This hit the spot!
Dinner: Vegetable Beef Soup
- I posted this recipe yesterday and I just had to whip up a batch. It is so simple and I always have all of the ingredients. My whole family loved it. I have plenty of leftovers for lunch this week. So good.
Dessert: Dove Almond Dark Chocolate
- I can't help but not feel like my day is complete without a little dark chocolate. :)
So tell me.....
What do you put on your burrito bowl??
Favorite chocolate treat??
Favorite Christmas goody??