Happy Wednesday!! Hope everyone is having a fabulous week!!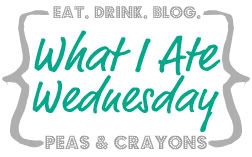 Meal 2 : Chocolate Shakeology with fresh strawberries and ice. (10:30 a.m.-after workout)
Meal 3: Banana, Almond Butter & Cinnamon Wrap (1:30 p.m.)
Meal 4: Plum, cherries and almonds (4:00 p.m.)
Meal 5: Kale Salad with a baked sweet potato (6:30 p.m.)
Meal 6 (Dessert): Arctic Zero Chocolate Ice Cream with 1 tsp. almond butter and a few dark chocolate chips (7:30 p.m.)
When starting out on my "clean eating" journey....reading what others would eat on a typical day helped me a lot! I hope that it helps you plan out your day and your meals. Check out the
other bloggers "WIAW" posts
for some great ideas!