HI! I found out this week that I passed my glucose test and I am super excited to have that behind me! I don't really know why I was worried but the thought of having to go through a 3 hour test made me cringe!! My blood count also looked good. I have to say....this is definitely the healthiest pregnancy I have had. I haven't done a ton of exercise but I have eaten so much better!! My goal is to only gain around 30ish pounds. So far I am at 20 and I have 12 more weeks to do. We will see!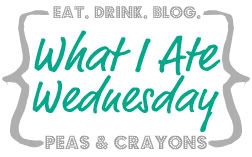 Breakfast
: I made some awesome
Brownie Batter Oatmeal
from Fit Foodie Lee. Wow...you guys....this is so good! I may be hooked!!
Lunch: Well...maybe this was more like a snack?? Plain Greek yogurt mixed with a little Truwhip to make it fluffy and added strawberries on top. This tastes like dessert. I eat this everyday!
Snack: Ezekiel english muffin, mashed avocado, 1 egg (microwaved), colby jack cheese and a slice of nitrate free bacon. I mean...really. So good!
Dinner:
Cheesy Lentil Mac N Cheese
This is a family favorite. I used organic tomato sauce instead of diced tomatoes and added organic zucchini and red pepper. I use whole grain Rotini pasta and the kids gobble it up!
**I may or may not have had a chocolate chip cookie for dessert. Not "clean" but it hit the spot! :)
Hope you guys have an awesome Wednesday!!