Happy Wednesday!!!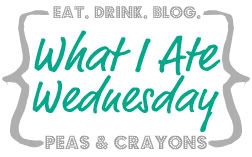 Yesterday was a pretty awesome, relaxing day! Went for a nice walk with the kiddos and my Mom. We really enjoyed the weather! I love the cooler air!! Makes it so much more enjoyable to take the kids outside to play. We also picked some pears from my family's pear tree! YUMM!! We could barely get them home and washed before my baby girl started munching on them!
Here is what I ate yesterday:
Breakfast: My usual these days....steel cut oatmeal and a cup of pumpkin spice coffee. Perfection.
Snack: Pumpkin bread....of course!! Going to have to make some more of this today!!
Lunch: Leftover Hamburger Quiche....so delicious! Recipe coming soon! ;)
Snack: Cucumber slices with Tzatziki. I love this stuff! Great with carrots or cucumbers! The ingredients are pretty good too. This was a great find! Makes it a lot easier for me to eat veggies for snack!
Dinner: We were a day late getting groceries so I had to whip something up with what I had at home. I found this recipe for Honey Ginger Apple Pork and I had all the ingredients so I threw it in the crock pot before we went for our walk. It was SO DELICIOUS!! I also made some roasted sweet potato cubes to eat with the pork and it was a huge hit!!
So tell me....
What is your favorite way to eat pears??

Favorite meal to throw in your Crock Pot??

Favorite fall bread???