Happy Wednesday Everyone!! Yesterday was a pretty chill day at home so my meals were pretty boring! But here goes!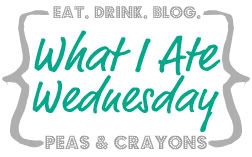 Meal 1: My usual Overnight Oats and black coffee (7:30 a.m.)
I can't seem to get enough of overnight oats lately! I make a variation of my favorite overnight oats pretty much every night after dinner so in the morning there is absolutely no time needed for my breakfast! Just grab and devour!
Meal 2: Designer Whey White Chocolate Protein Shake (10:30 a.m.)
Details on this and the recipe posted later this week!! SO YUMMY!
Meal 3: Scrambled eggs with Ezekiel Cinnamon Raisin Bread and Sunflower Butter (1:00 p.m.)
My Mother-in-law has chickens in her backyard and she was nice enough to give me some FRESH organic eggs over the weekend. They tasted delicious and I am pretty sure it doesn't get more organic than that!! I do one whole egg and three egg whites in my scrambled eggs. Ezekiel toast and sunflower butter are both staples at my house!
Meal 4: 5 minute Granola Bar, apple and La Croix Grapefruit Sparkling Water (4:00 p.m.)
I am obsessed with these granola bars. My 18 month old can't get enough!! The best part about them is how easy they are to make. These and my
peanut butter fruit and nut granola bars
are definitely on my top 2 list for best granola bars...ever!! Also La Croix Sparkling waters are great when you want the carbonation but not the junk! So refreshing!
Meal 5: Burrito Bowl (7:00 p.m.)
This is one of the fastest dinners and my entire family loves it. All I do is steam a bag of brown rice, add black beans, grilled onions and peppers, avocado and cilantro! I like to add a ton of salse verde to the top and call it dinner! We have made this 1000 different ways. Sometimes we add chicken and we always mix up the veggies depending on what I have on hand.
Meal 6: Arctic Zero Chocolate Ice Cream (8:00 p.m.)
I have had such a sweet tooth lately. Having a couple scoops of this ice cream with a few dark chocolate chips really hits the spot! Super low in calories and the ingredients aren't too bad! Score!