Good Morning Everyone!!
Breakfast: Organic honey nut toasted oat's,Organic pumpkin flax cereal, organic whole milk and half of a banana. I also had a cup of coffee with organic half and half. I rarely eat cereal but this hit the spot!!
Lunch: Plain Greek yogurt with blueberries and honey. I also had a black plumcot.
Snack: Omelet with organic eggs and organic cheese. I also had a handful of fresh cherries. I'm obsessed with fresh cherries lately!
Dinner: This is an old picture because I had technical difficulties taking the one of dinner last night! I had a Dr. Praegers California Veggie burger on top of a salad with lettuce, tomato and avocado. Instead of sweet potato cubes, I made roasted okra and zucchini. Yum! A TON of veggies for dinner!! This is probably one of my favorite dinners. So easy and delicious!
Dessert: I was craving some chocolate so I ate some dark chocolate homemade pudding with Truwhip on top. I got the recipe
here
but I changed it up with all organic ingredients and dark chocolate cocoa powder.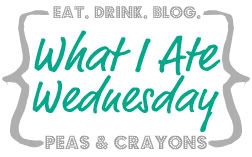 So tell me....
What are you eating this week???