It almost seems crazy that is Wednesday already!! This week is flying by!! I know I haven't been documenting a lot of what I have been eating lately...partly because I was so nauseous for so long that I wasn't eating much and it was pretty random!!
I am glad to say that I am back on track!! Happy to spend the rest of my pregnancy eating healthy!!!
Today I am linking up with Jenn from
Peas and Crayons
to share with you some of my daily eats!!
Breakfast: Trader Joe's Multi-grain British Muffin with a 2 egg/colby jack cheese omelet inside. Cantaloupe and raspberries on the side.
Snack: Watermelon (my first of the year and it was awesome!!!)
Lunch: Very random veggie wrap! I filled my whole grain wrap with spring mix, pickles, colby jack cheese, roasted red peppers and black beans! I also had plain Greek yogurt with strawberries and blackberries with a little honey drizzle.
Snack: I was driving home from a class I had for work so I grabbed a Larabar out of my purse. I always keep a stash in there for emergencies!
Dinner: Grass fed beef burger (from Trader Joe's) with grilled onions on top of spring mix, avocado, roasted green beans and drizzled with salsa verde! Dinner was fabulous!!
Dessert: A handful of sea salt/turbinado sugar dark chocolate covered almonds from Trader Joe's. They are my weakness!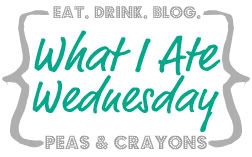 Hope you all have a fabulous Wednesday!! What is your favorite/meal or snack lately???