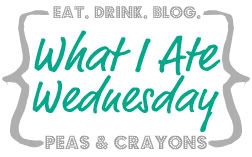 Good morning everyone!! I am in the process of switching up my usual meals. Not that I don't love them...just because my body needs a change!! I guess you can't live off of bananas and almond butter forever! UGH! My plan is to increase my protein intake and add in some veggies! This is a challenge for me but I think it is important to keep changing things up! SO here goes!
Breakfast: This one is a shocker....no overnight oats...I made a bowl of Eggy Oatmeal from Running with Spoons and it is delicious!! To be honest....I have eaten this every morning for the past 4-5 days!! This is huge for me since I have admitted over and over that I hate hot oatmeal!! I gave it another shot and I LOVE IT!! I like to top mine with all natural crunchy peanut butter and honey.
Snack: Greek yogurt with blueberries. I also had a handful of raw almonds.
Lunch: Baked sweet potato topped with leftover Turkey Chili.
Snack: Organic baby carrots with Greek hummus and a Bartlett pear. I also made some green tea with honey and mint. So good!
Dinner: This was ridiculous. I mean beyond ridiculous. So good! I made the Easy Shredded Pork over Caramelized Plantain Mash from Paleomg. You don't have to be on the paleo diet to enjoy her recipes! I am obsessed with her blog!
Have a lovely day!!
So tell me....what is your favorite veggie snack???